June 1st, 2010
Tripawds is a user-supported community. Thank you for your support!
Around the end of March 2010, I noticed my great dane, catahoula mix Beaner had started limping and wouldnt use his front left paw. Thinking he had just hurt it a little bit i took him to the vet. At the vet they did a lyme disease test and determined he had lyme and thats what the limp was about. They gave us meds and said that the limp should be better in a day or two. As the days went on the limp continuously worsened and we decided a further examination wasnt a bad idea. They took him to x-rays and came back with some very bad news. There was what looked like a tumor in the wrist joint of his paw. They told me amputation would most likely be the only thing that would help, but to do a biopsy first to see what we were dealing with. So 2 days later Beaner went in for his biopsy surgery. He was at the vet from 8am until 3pm and had about an inch and a half long incision on his wrist joint. The biopsy cost about $450.00 which included more x-rays. Than there was the 4 day wait where they sent the tissue samples to the lab.
After the 4 long days of waiting, they got back to me and told me that Beaner had the worst of canine cancers… Osteosarcoma… I had done alot of research at this point and knew that was what it most likely was. I had hoped and prayed that it wasnt, but I knew in the back of my head that was what it was. When the vet confirmed it, my heart dropped and I knew what was next. Amputation. The amputation surgery is very expensive. $1500.00 While I was getting the money together for the surgery, they had given me Meloxicam pain pills to give to him. The meloxicam worked amazingly and he was seemingly pain free until one day the joint swelled up like a tennis ball. I knew that day that i was running out of time, so my parents, being the saints that they are, skipped their mortgage payment and gave us the money to go ahead with the surgery. We called our vet at 4pm and said he needed the surgery right away and told them about the swelling. They knew how urgent this was and told us to bring him in at 8am the following morning.
That night was extraordinarily hard. I pet him and cried all night. I debated over and over again whether this was the right thing to do. I didnt want to take his leg away from him. i didnt know if he would hate me for it. I felt selfish, like i was doing this to keep him with me and not for him just to feel better. The hardest part was knowing that he wouldnt know why he didnt have a leg anymore. It was heartbreaking knowing that he would wake up in a strange place without his leg. I knew it had to be done though. So at 7am the next morning, i woke up after an hours sleep. Hugged him, kissed him, told him i loved him over and over again, and took him to the vet. Dropping him off broke my heart. we already have sever seperation anxiety, so it was really hard to have to leave him in this situation. I let the vet take him to the back and and somberly walked out of the vet. They told me I could call at 3pm to check on him, but i couldnt wait that long and called at noon. they didnt have much information for me and he was still in surgery. So I went to work at 230 and stopped on my way to check on him. At that point he was out of surgery and they were waiting for him to wake up.
Around 4pm i was working and got a call from the vet. Beaner was doing amazing and i could pick him up that night. I was so excited I ran to tell my boss i had to leave. By the time i got there my parents were already at the vet checked out and waiting outside with Bean. I ran over to my man, who was standing on 3 legs. He saw me and started wimpering and crying, as if to say, what happend to me mom? why did they do this? do u see what they did? I just hugged him and reassured him it was alright. and just like that he seemed to accept it. when i didnt show that i was scared he seemed like he wasnt either.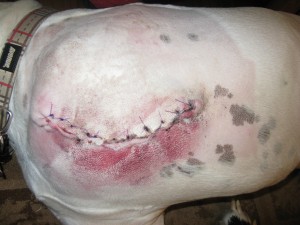 The first night of him being home was the hardest. We had set up a sick room in the dining room so he didnt have to do any stairs. He was deffinately in pain, so the whole night we laid and cried. My heart was broken for him and i wished there was something i could've done differently. After that first night everything went uphill. They day after the surgery i went out and had my mom watch him. she wasnt watching him close enough tho, cuz he snuck upstairs all by himself, to see if i was up there. she figured shed let him relax up there for awhile and not pressure him to come down, but 5 min later he hopped down the stairs like it was no problem. His recovery has been amazing. He never looks back. He never gets frustrated if he falls, which he does less and less frequently now. He just pops back up and tries again. Some days he is sore, but i still have the meloxicam pain meds and that usually helps immensly. Mainly hes the same loving affectionate lapdog he always was.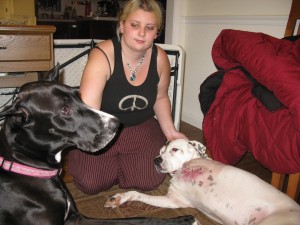 It has been almost 2 months since the amputation and he is doing amazing. I chose not to go with chemo, because i think it is alot to put him through. Hes been such a trooper his whole life, that i think chemo would just be too much. We know the statistics of dogs with osteosarcoma, and they really are horrible, but i will appreciate his life no matter what and will love him till the end. I value every day i get with him, every kiss he gives me, and every night when he snuggles up to me I really do think about how lucky I am to have such an amazing dog. He keeps his head up and is just as proud as ever.
Filed under
Uncategorized
|
Comments (12)
June 1st, 2010
Welcome to Tripawds. This is your first post. Edit or delete it, then start blogging. Be sure to check out your default sidebars for helpful tips to make the most out of your new Tripawds Blog! And don't miss our helpful WordPress tutorial videos if you need help getting started with your new Tripawds blog.
Filed under
Uncategorized
|
Comment (1)